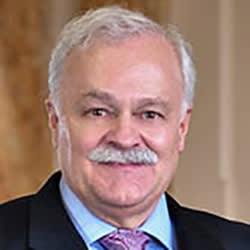 Nathaniel Smith
Attorney at Law
After five years of being a member of a local law firm known as Stoehr & Smith, Nathaniel B. Smith began his association with Goldstein Heslop Steele Clapper Oswalt & Smith as a shareholder in April 2011. Since graduation from law school and his entry into the Pennsylvania Bar in 1981, he has mainly been representing injury victims who have suffered serious or fatal injuries as the result of the negligence of other persons or companies. From 1989 to 1991, he defended the same type of cases on behalf of insurance companies.
This experience on both sides of the courtroom has given Attorney Smith knowledge in the following practice areas:
• Personal injury claims
• Social Security disability
• Civil litigation

Since 1992, Attorney Smith has resumed representing plaintiffs and claimants in order to attempt to make them financially whole and to see that the law is used to benefit them to the fullest extent possible.
Attorney Smith was born in Pittsburgh, Pennsylvania on November 24, 1956, and graduated from Hollidaysburg Area Senior High School in 1974, followed by a B.A. in Political Science from Pennsylvania State University in 1978.
He earned a Juris Doctorate degree from the Duquesne University School of Law in 1981. During law school, Attorney Smith worked as an intern with the Western Pennsylvania District office of the Pennsylvania Attorney General.
Upon graduation, Attorney Smith began working with a general practice private law firm in Pittsburgh where he began his focus in the area of Plaintiff's personal injury law. From 1989 to 1992, Attorney Smith worked for a Pittsburgh-based firm defending personal injury claims while gaining substantial trial experience. In 1992, Attorney Smith returned to Blair County and to the representation of injured parties as a litigation attorney serving clients in the Blair and Cambria County offices of Edgar Snyder and Associates.
Attorney Smith also serves as a Pro Bono Mediator for the Blair County Court of Common Pleas.
Attorney Smith is active in his church. During warmer weather, Attorney Smith enjoys running, biking, hiking and other outdoor activities; in the winter, he enjoys downhill skiing.
His professional memberships include:
• Admitted to practice before all Pennsylvania Courts, The United States District Court for the Western District of Pennsylvania, and the United States Third Circuit Court of Appeals
• Member of the Blair County Bar Association
• The Pennsylvania Bar Association
• The Pennsylvania Association for Justice
• Western Pennsylvania Trial Lawyers Association - President's Club and Board of Governors
Pennsylvania - 1981
Maryland - 1995
U.S. District Court Western District of Pennsylvania, 1981
U.S. Court of Appeals 3rd Circuit, 1998
Duquesne University School of Law, Pittsburgh, Pennsylvania
Doctor of Jurisprudence – 1981
Pennsylvania State University, University Park, Pennsylvania
B.A. – 1978
Major: Political Science
Blair County Bar Association
Pennsylvania Bar Association
Pennsylvania Association for Justice
Western Pennsylvania Trial Lawyers Association
American Association of Justice
Maryland Trial Lawyers Association
Maryland Bar Association
Association for Retarded Citizens of Blair County, Board of Directors, 2008
Western Pennsylvania Trial Lawyers Association, President's Club, and Board of Governors
Edgar Snyder & Associates, Associate Attorney, 1992 to 2006
CNA Insurance, Defense Attorney, 1989 to 1992
Brennan, Robins & Daley, Pittsburgh, PA, Associate, 1981 to 1989
Western Pennsylvania District office of the Pennsylvania Attorney General, Intern
Founding Partner of Stoehr and Smith - 2006 to 2011
Pro Bono Mediator, Blair County Court of Common Pleas
Chairman of Staff Parish Relations Committee
Member, Church Council, and Finance Committee
FUMC, Hollidaysburg-Church Council
Provides guidance in law
Church related matters
Plaintiff's Arbitrator in Underinsured/Uninsured Motorists Claims
Personal Injury Claims
Drafting of other Estate Documents
Estate Administration
Civil Litigation